2018
The InteRRaCt lab had the immense pleasure to organise and host a symposium at Queen's University Belfast on Friday 5th October 2018. The symposium was attended by some of the lab's excellent Scientific Advisors, National and International collaborators, PhD and MSc students. This was a very productive day with a series of fantastic talks, constructive discussions and the formulation of fascinating research ideas and plans. In the evening, the team participated in a Cocktail masterclass at the Observatory Bar ,the tallest bar in all of Ireland! The evening was supported by Visit Belfast, one of InteRRaCt Lab's valued collaborators.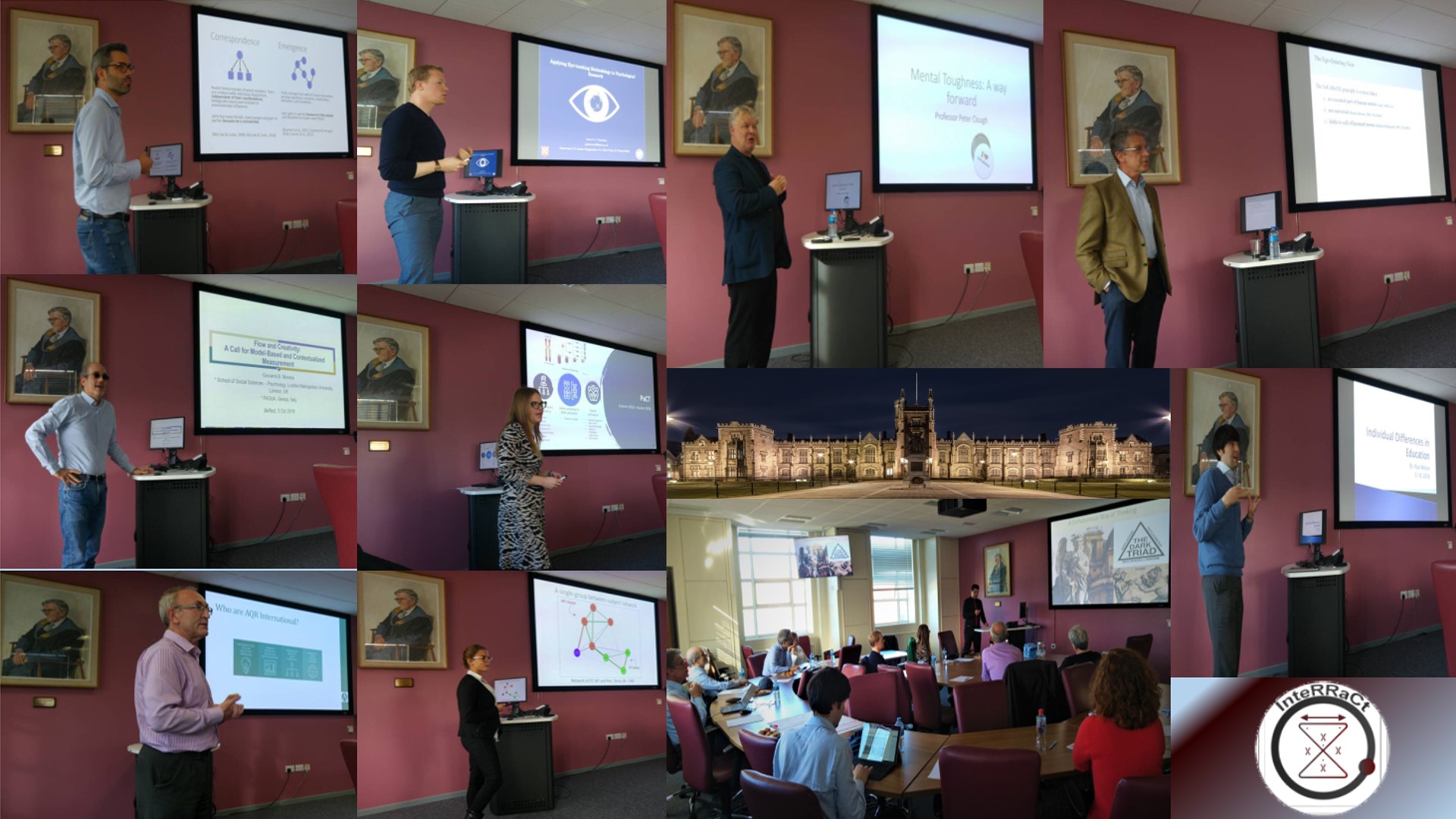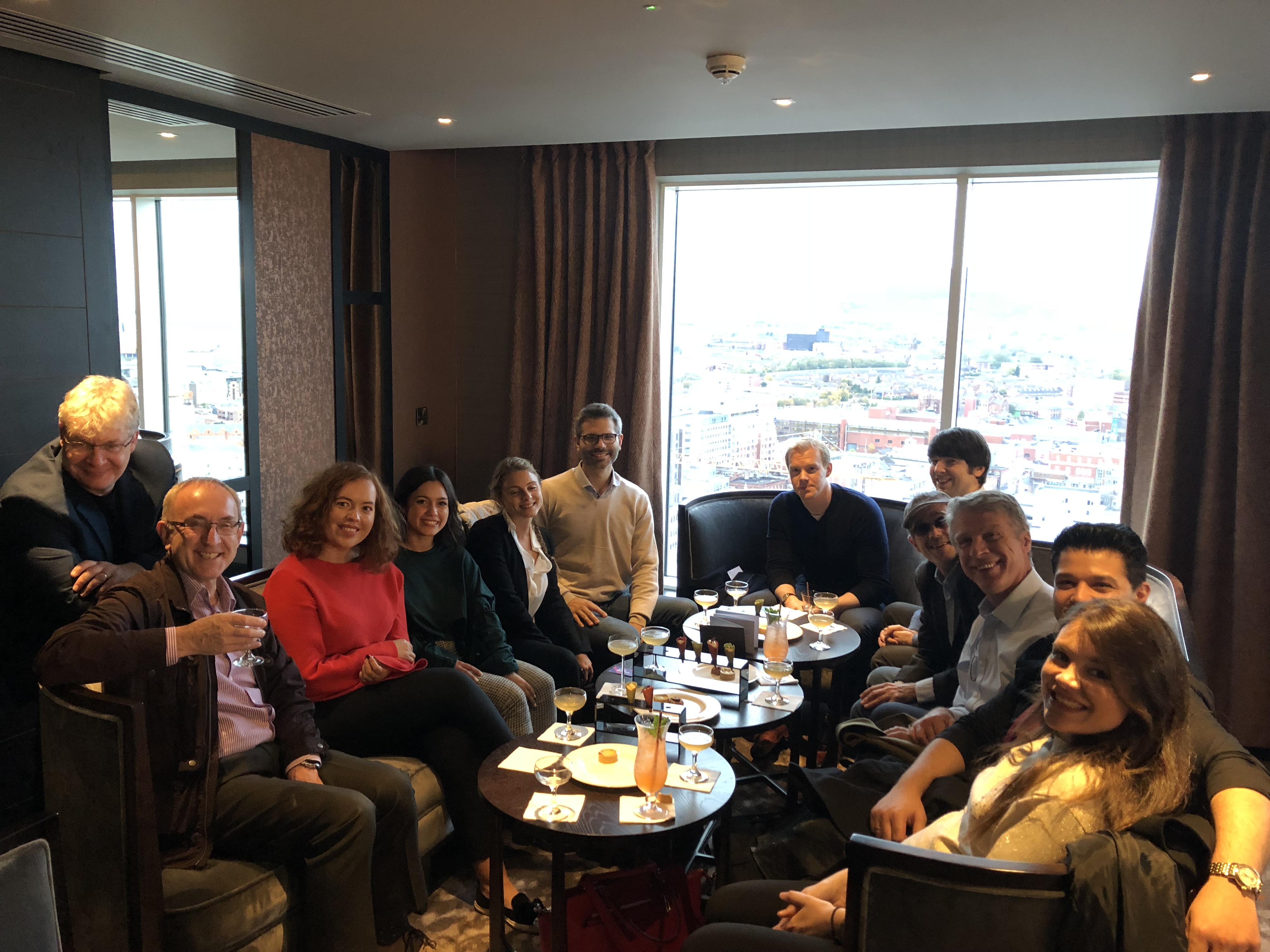 ---
The InteRRaCt Lab welcomes Ms. Tayler Truhan, who has started her PhD in October 2018. Tayler worked in the InteRRaCt Lab for almost two years for her MSc dissertation and as a Visiting Research Associate before deciding to pursue a PhD. Tayler will be working in the PaCT project and she will be supervised by Dr. Kostas Papageorgiou and Professor Rhiannon Turner. Have a great start Tayler!
---
InteRRaCt Lab Research Attracts Worldwide Media Attention: Our recent paper "Longitudinal associations between narcissism, mental toughness and school achievement." that was published in the journal of Personality and Individual Differences attracted worldwide media attention: Dr. Papageorgiou interview on BBC was the fifth top story on BBC's main website achieving more than half a million readers in less than 24 hours in June 26th. Dr. Papageorgiou has given interviews in more than 10 radio stations including a live interview for BBC World Service the world's largest international broadcaster that broadcasts news in over 30 languages. Overall, this work resulted in more than 200 pieces of coverage worldwide.
---
Following a very productive first year, Mr. Aaron Patterson, a PhD student in the InteRRaCt Lab working on the ALLUSION project, has passed successfully his differentiation in May 2018. Aaron is supervised by Dr. Papageorgiou and lab members Dr. Teresa Rushe and Dr. Oliver Perra. Well-done Aaron!
---
In March 2018, Dr. Papageorgiou has visited the  Educational Centre Sirius in Sochi, Russia to present at the center's 1st International Conference. The aim of the centre, that works all year round, is the identification, development and further professional support of gifted adolescents, who have shown outstanding ability in the areas of intellectual achievement, music, arts or sports.
---
2017
Dr. Papageorgiou attended the annual Belfast Ambassador Awards at the Titanic Hotel Belfast in November 2017 and received recognition for his work to promote the city of Belfast as a business and tourism destination and a venue for hosting international scientific conferences.
---
The InteRRaCt Lab welcomes Mr. Aaron Patterson, who has started his PhD in September 2017. Aaron will be working on the ALLUSION project and he will be supervised by Dr. Papageorgiou, and lab members Dr. Teresa Rushe and Dr. Oliver Perra.  Have a great start Aaron!
---
In September 2017, Dr. Papageorgiou has visited Tomsk University in Siberia in order to deliver five lectures on the International MSc in Human Development: Genetics, Neuroscience and Psychology and an open lecture at the same university.
---
In July 2017, Dr. Papageorgiou delivered a talk at the International Society for Intelligence Research, Annual Conference that took place in Montreal, Canada. The talk was titled: Longitudinal Associations between Narcissism, Mental Toughness and School Achievement.
---
In June 2017, Dr. Papageorgiou visited the Psychological Institute of the Russian Academy of Education in Moscow to present at the International Summer School for young scientists and students 'Interdisciplinary Approaches to the Study of Educationally Relevant Psychological Traits'.